Fried Rice With Bacon
2013-04-17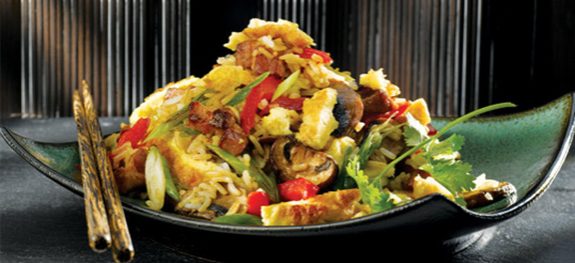 Servings :

4

Ready In :

10m
Great dish when unexpected guests turn up!
Ingredients
4-6 Quality Assured eggs
2 tablesp. light soy
2 tablesp. oil
200g diced bacon
400g cooked rice
1 red pepper, seeded and diced
1 chilli, chopped
1 bunch scallions, chopped
Handful of coriander, chopped
Method
Step 1
Heat a wok or large pan, then add a little oil. Beat the eggs and soy together. Pour the mixture into the wok. Cook quickly stirring as the egg cooks. Tip the cooked egg on to a plate. Reheat the wok and cook the bacon until crispy, adding a little more oil if necessary, then add in the red pepper, chilli and scallions. Stir-fry for another minute, tip the mixture on to a plate.
Step 2
Reheat the wok with remaining oil, add in the rice and stir fry for 3-4 minutes, add back the bacon and egg mixture, mix the lot, check the seasoning, add more soy if necessary. Sprinkle some coriander over each plate and serve with a big bowl of mixed salad.