Consumers in Ireland are Falling in Love with Eggs All Over Again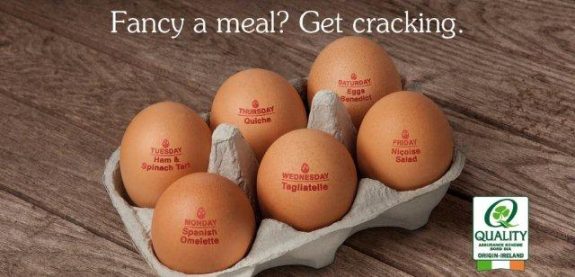 375 million eggs sold per year in Ireland as an additional 370,000 people eat eggs for dinner weekly
The number of people eating eggs in Ireland for dinner or a snack has doubled over the past year.  An additional 370,000 dinners are made with eggs each week, with 37% of the population now eating eggs as part of their main meal.  More young families are choosing eggs for dinner while young, single people are making more snacks and suppers using eggs.
 375 million eggs were purchased in shops and supermarkets in Ireland over the past 12 months. Sales of eggs are growing faster than most fresh foods in the shopping trolley with 7% growth recorded over the last year.  We now spend €92million a year on retail sales of eggs.
 An additional 300,000 breakfasts made with eggs are cooked each week when compared with 2012 figures, with 62% of the population eating eggs as a main part of their breakfast meal.  The number of eggs consumed in home-made desserts and cakes has also increased significantly when compared to last year as the revival in home-baking continues to grow.
 "These statistics show that more people are recognising the value of eggs as a main ingredient for dinner, lunch and breakfast, with 80% of shoppers choosing Bord Bia Quality Assured when buying eggs," said Teresa Brophy, Consumer and Trade Marketing Manager at Bord Bia."There is scope for the sale of eggs to continue to grow strongly over the coming years as more people recognise the versatility of eggs in everyday meals.  The average cost of an egg is just 24 cent, making it one of the most cost effective sources of protein and high quality nutritious food. "
 The figures are contained in two separate reports, prepared for Bord Bia by Kantar Worldpanel and Behaviour & Attitudes, which look at the buying and eating patterns of consumers.