Poached Eggs & Home Fries
2013-04-17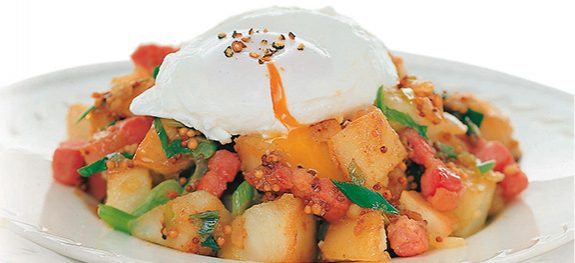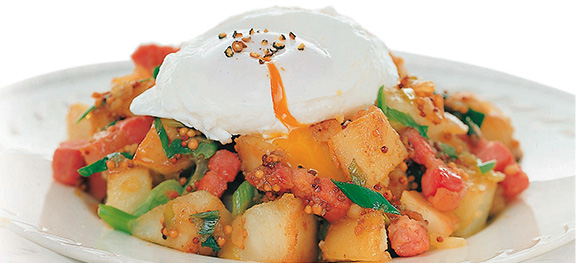 Servings :

4

Ready In :

15m
Great Anytime of the Day!
Ingredients
1 tablesp. olive oil4 bacon rashers, trimmed and chopped
1 small onion, diced
4-6 cooked potatoes, diced
2-3 scallions, chopped
1 tablesp. grain mustard
Dash of wine vinegar
A little salt and black pepper
4 Quality Assured eggs
Method
Step 1
Lightly oil a large pan. Sauté the bacon and onion for 1-2 minutes. Then add the potatoes and scallions and continue to cook for a few minutes until the potatoes are beginning to brown. Stir in the mustard and vinegar and season to taste – keep warm.
Step 2
To poach the eggs, bring a large pan of water to simmer. Season the water with salt and a dash of vinegar. Break the eggs, one at a time, onto a saucer then slide gently into the water. Cover the pan and continue to simmer for 3-4 minutes or until the eggs are cooked to your liking.