The Classic French Omelette
2013-04-17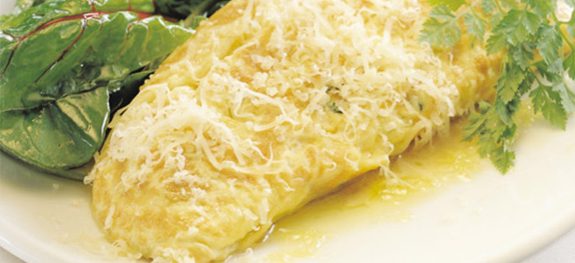 Servings :

1

Ready In :

15m
With an omelette, dinner is only 3 minutes away!
Ingredients
3 Quality Assured eggs
3 teasp. water
½ tablesp. fresh herbs, chopped
Salt and black pepper
Knob of butter
Filling:
A little butter
25g (1 oz) Quality Assured Bacon, diced
25g (1 oz) oyster or button mushrooms, chopped
25g (1 oz) Farmhouse Cheese, grated
Alternative Filling:
Chopped tomatoes, basil, scallions
Method
Step 1
Prepare the Filling
Step 2
A non-stick omelette pan is essential. Beat the eggs, water, herbs and seasoning together. Heat the pan well, add the butter, pour in the egg mixture. Work quickly, drawing the egg to the centre of the pan as it begins to set. This allows the uncooked mixture to reach the base of the pan. Continue until you have the omelette cooked to your liking.
Step 3
Place the filling along the centre of the omelette. Starting at the handle, fold over the omelette by . Slide the omelette down the pan.
Step 4
Then, with your hand under the handle, tip the omelette onto a warm plate, making the third fold. Sprinkle with finely grated regato cheese (optional) and serve with mixed salad leaves.