Soft Boiled Eggs And Smoked Salmon Bagels
2013-04-16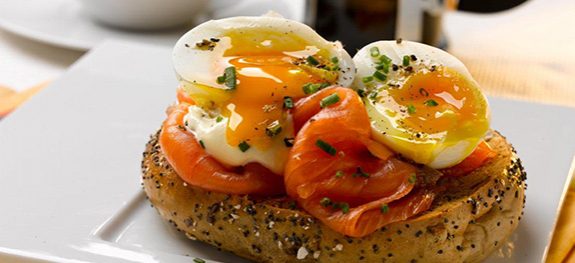 Servings :

4

Cook Time :

15m
The smoked salmon is these bagels could be replaced with slices of cooked ham; or try wilted spinach for a vegetarian alternative.
Ingredients
4 large Quality Assured eggs
2 bagels, granary if available
Butter, for spreading
200g packet smoked salmon slices
2 tablesp. crème fraîche
A little salt and freshly-cracked black pepper
1 teasp. fresh chives, chopped
Method
Step 1
Place the eggs in a small pan of water and boil for 5 minutes, then drain and plunge into a bowl of iced water. Set aside for 10 minutes as this will make them much easier to peel.
Step 2
Preheat the grill to high. Cut the bagels in half and arrange on a grill rack. Cook for 1-2 minutes until toasted. Spread with a little butter.
Step 3
Place the toasted bagel halves on warmed plates and ruffle the smoked salmon slices on top. Add half a tablespoon of crème fraîche.
Step 4
Shell the eggs and cut each one in half, then arrange on top of the smoked salmon and crème fraîche. Season lightly and sprinkle with the chives to serve.