Smoked Salmon And Cream Cheese Frittata
2013-04-17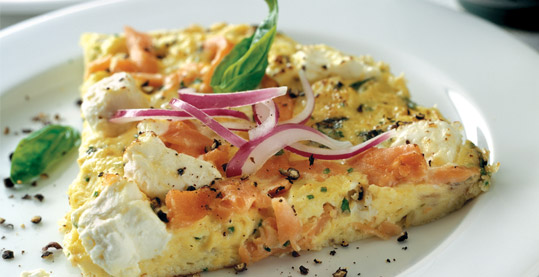 Servings :

2

Ready In :

5m
Quick, easy and special
Ingredients
8 Quality Assured eggs
2 tablesp chives, chopped
1 tablesp basil chopped
Salt and black pepper
1 tablesp. olive oil
50g (2oz) cream cheese, diced
50g (2oz) cream cheese, diced
Red onion slices to garnish
Salad leaves and bread to serve
Method
Step 1
Set the grill to high.
Step 2
Whisk the eggs with the chives, basil and seasoning. Heat a non-stick pan with the olive oil. Pour in the egg mixture, stir for a moment or two, allowing the liquid egg to flow on to the base of the pan. Scatter on the cream cheese and continue cooking until the egg is almost set but still moist on top, add the smoked salmon pieces, press on salmon lightly. Place the pan under the hot grill to finish cooking 1-2 minutes. Cool 5 minutes, and then loosen edge with spatula and slide onto a large plate. Cut into wedges and serve warm. Garnish with red onion slices.
Step 3
Serve with salad leaves and crusty bread.