Nicoise Salad
2013-04-17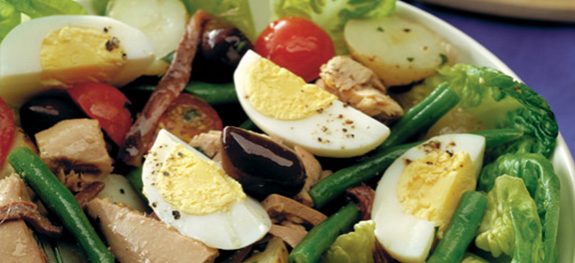 Servings :

4

Ready In :

15m
An easy dinner in 15 minutes
Ingredients
500g (1 lb 2oz) small potatoes, boiled and chopped
225g (8 oz) green beans, lightly boiled
200g can tuna, flaked
12 cherry tomatoes cut in half
4 Quality Assured eggs, boiled for 10 mins, peeled and cooled
A handful of black olives
4 anchovy fillets cut in half lengthways
1 cos lettuce or mixed leaves
Dressing:
3 tablesp. Sunflower oil
1 tablesp. Wine vinegar
1 tablesp. Dijon mustard
Salt and pepper
2 tablesp. mayonnaise
1 tablesp basil, finely chopped
Method
Step 1
Mix the oil, vinegar, mustard and seasoning together.
Step 2
To assemble the salad, place the potatoes, green beans, tuna, tomatoes and leaves in a large bowl, mix with half the dressing, divide between four plates. Cut the eggs in four and add to each plate. Divide the black olives between each plate. Mix the remaining dressing with the mayonnaise and the basil. Drizzle the dressing over each plate and top with the anchovy strips.
Step 3
Very good with crusty bread.
Step 4
The Nicoice Salad could also be served from one large salad bowl.