Leek, Mushroom And Ham Frittata
2013-04-16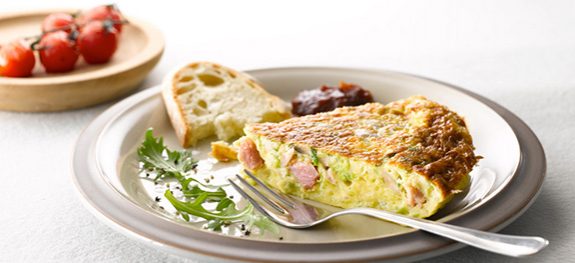 Servings :

4

Ready In :

20m
A great way to use up whatever vegetables or herbs you have in the fridge.  Another great combination is bacon, spinach and blue cheese.
Ingredients
8 Quality Assured eggs
2 tablesp. olive oil
A knob of butter
3 leeks, cleaned and thinly sliced
1 small onion, finely chopped
100g mushrooms, cleaned and sliced
100g cooked ham or bacon, chopped
25g cheese, grated
1 tablesp. parsley, chopped
Salt and freshly ground black pepper
To Serve: Roasted cherry tomatoes, green salad, chutney and bread
Method
Step 1
Heat a tablespoon oil in a 22cm non-stick frying pan over a medium heat. Add a knob of butter then add in the leeks, onion and mushrooms and sauté for 4-5 minutes until lightly cooked. Beat the eggs in a large bowl then add in the ham or bacon, cheese, parsley, salt and pepper. Take the frying pan off the heat and put the leek and mushroom mixture into the bowl with the other ingredients and stir to combine.
Step 2
into the bowl with the other ingredients and stir to combine. Heat a little more oil in the frying pan. Then pour in the egg mixture, stir gently for a moment or two, allowing the liquid egg to flow on to the base of the pan. Continue to cook until the egg is almost set but still moist on top. This will take about 5 minutes.
Step 3
Meanwhile heat the grill until hot. Place the frying pan under the hot grill for 4-5 minutes to finish cooking.
Step 4
Cool for 2-3 minutes, then loosen the edges with a spatula and slide, or turn out the frittata, onto a large plate or board. Cut into wedges and serve warm with roasted cherry tomatoes, green salad, your favourite chutney and bread.
Step 5
To roast the tomatoes, drizzle them with olive oil, season and cook for about 10 minutes at Gas Mark 6, 200°C (400°F) until they begin to burst.