Derry Clarke's Risotto Recipe With Poached Egg
2013-04-16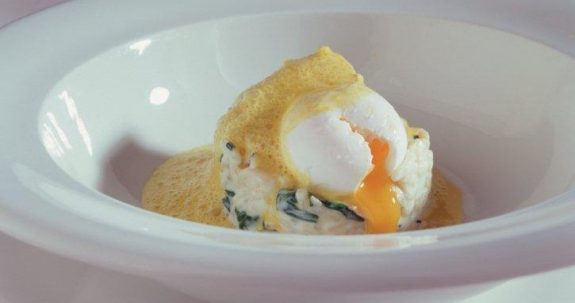 Sally Barnes Natural smoked haddock risotto with Parmesan & spinach, poached hen's eggs & curry froth
Ingredients
For Sally Barnes natural smoked haddock risotto;
½ basic risotto recipe
300g Sally Barnes smoked haddock (skinned & diced)
100g spinach (washed, dried & chopped)
50g Parmesan cheese (grated)
Poached eggs;
4 hen's eggs
For the curry froth;
1 basic froth recipe (substitute 40ml coconut milk & 50ml cream for 90ml cream)
½ teaspoon tumeric
½ teaspoon cumin
½ teaspoon Thai green curry paste
2cm stick lemongrass (broken up to release the flavour)
5g fresh ginger (peeled & sliced)
½ red chilli (deseeded & chopped)
Method
Step 1
For the natural smoked haddock risotto with Parmesan cheese & spinach; Set aside for later use
Step 2
Make the basic risotto adding the diced haddock just before the stock, and adding the spinach & Parmesan cheese when all the stock is absorbed.
Step 3
Set aside for later use.
Step 4
For the poached hen's egg;
Step 5
Bring a large pot of water to simmering point.
Step 6
Break the hen's eggs into the pot gently one at a time.
Step 7
Cook for 1 minute before taking the pot off the heat, and allowing the eggs to sit in the water for 8 minutes.
Step 8
This gives a translucent egg with a soft creamy yolk, remove with a perforated spoon.
Step 9
For the curry froth;
Step 10
Follow the basic froth recipe, boiling all the ingredients with the stock, cream & coconut milk.
Step 11
Pass through a fine sieve & using a hand blender or whisk, froth the mixture.
Step 12
To serve;
Step 13
Divide the natural smoked haddock risotto with Parmesan & spinach between 4 warmed plates, drizzle the curry forth about the plates.
Step 14
Finally, place a poached egg on the top of each mould of risotto.