Catherine Fulvio's Leek, Bacon And Broccolli Tortilla
2013-04-16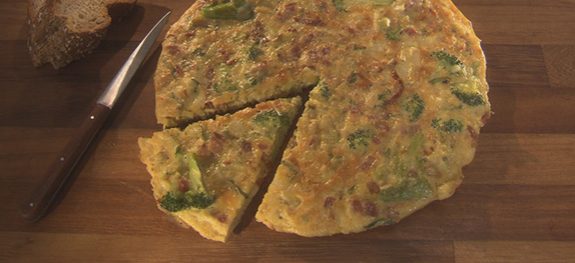 Ingredients
2 leeks, finely sliced
4 rindless streaky bacon, sliced into lardons
8 broccoli florets, blanched and halved
6 Quality Assured eggs
½ tsp chopped thyme
1 tsp parsley, chopped
4 tbsp mature Irish cheddar, grated
2 large sundried tomatoes, chopped
Extra virgin olive oil, for frying
Salt and freshly ground black pepper
Method
Step 1
Heat the oil in a frying pan, add the leeks and cook until soft. Using a slotted spoon, lift the leeks from the pan and set aside. Discard the remaining oil and fry off the bacon.
Step 2
In a bowl, mix together the eggs, thyme, parsley, cheddar cheese, sundried tomatoes, salt and pepper.
Step 3
Gently stir in the hot leeks until coated, add the bacon and broccoli.
Step 4
Wipe out the pan with kitchen paper, add about 4 tbsp of oil and heat.
Step 5
Add the mixture to the pan and cook, over a very low heat, until the egg begins to set. To prevent the tortilla from sticking, use a metal spatula and allow the uncooked egg to run underneath.
Step 6
Preheat the grill. Place the tortilla under the grill and continue to cook until it is set and golden in colour. This should take about 5 minutes. Keep an eye on it, as the grill can get very hot.
Step 7
To remove from the pan, place a plate over the frying pan and invert. The tortilla should just pop onto the plate.
Step 8
Cut into wedges and serve immediately with a baked potato and fresh salad.