More People Are Enjoying Eggs In Ireland As New Research Shows Almost 1 Million Eggs Are Purchased Here Every Day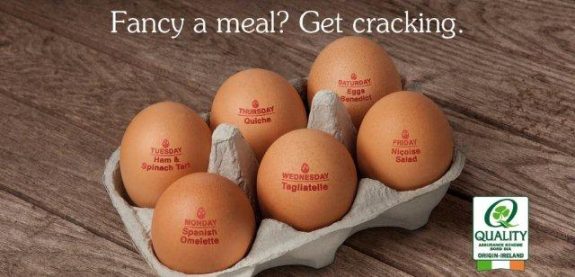 358 Million Eggs Purchased in Ireland by Consumers Last Year as More Younger Families include Eggs in their Weekly Grocery Shopping 
New figures from ongoing research carried out by Kantar Worldpanel for Bord Bia shows that people in Ireland are eating more eggs. 358 million eggs were purchased in the year to July 2012.  This is up over 5% from the previous 12 months. Shoppers now spend €85 million per year on eggs with 54% of shoppers now buying eggs every week – up 11% from last year. The growth is mainly due to younger families buying more eggs, a switch to larger value packs and many more choosing free range eggs.
"More Irish shoppers are buying eggs on a weekly basis", said Teresa Brophy, Ireland Market Manager at Bord Bia.  "The latest Kantar research shows that more consumers are buying eggs for their young families and this indicates that eggs are seen as nutritious, versatile and convenient food for a range of meals from breakfast to dinner."
Eggs are regarded as nature's original superfood and are particularly good value for money. They are high in nutritional value, versatile and dinner can be cooked in minutes for a family of four for less than €10 with many of the recipes on this site.  Check out the Dinner Recipes and the Great Value Family Recipes on the index on the left hand side of this page . Always choose eggs with the Bord Bia Quality Mark so that you know they have been produced to the highest Bord Bia standards.
Eggs and Nutrition
Eggs contain the highest quality protein which is essential for building and repairing muscle, organs, skin, and other body tissues. Protein is also needed to produce hormones, enzymes and antibodies. Eggs also contain many of the most important vitamins and minerals that are essential for a healthy diet such as Vitamin B12 and B5, Vitamin D, Choline, Folic Acid, Iron, Selenium and many more.
Here are just some of interesting facts about eggs:
A large eggs contains just 70 calories and 5 grams of fat
Eggs keep hunger pangs at bay.
Children who have eggs for breakfast have better concentration levels in school¹.
Eggs help keep your immune system working properly because they are a good source of vital vitamins and minerals such as selenium.