Spanish Omelette With Spicy Tomato Salsa
2013-04-23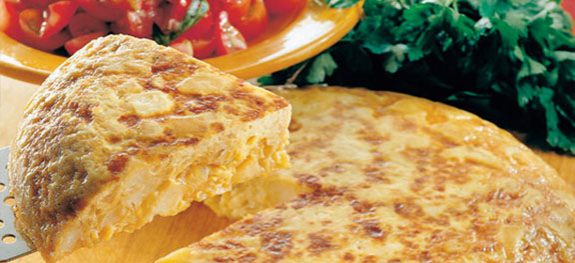 Servings :

4

Ready In :

10m
This recipe is a great illustration of simple, enjoyable food
Ingredients
Olive oil
8 potatoes, cut into small dice
1-2 onions, chopped
6 Quality Assured eggs, whisked in a large bowl
A little salt and black pepper
Spicy Tomato Salsa:
4-6 well-flavoured tomatoes, diced
1 red onion, diced
1 fresh chilli, diced
1-2 cloves garlic, chopped
1 tablesp. basil or coriander, chopped
Juice of ½ lemon
3-4 tablesp. oil
Salt and black pepper
Method
Step 1
Heat a generous amount of oil in a large non-stick pan. Add the potatoes and cook for 5 minutes. Add the onions and continue cooking for another 4-5 minutes. Add the mixture to the eggs, season and mix well.
Step 2
Reheat the pan again with a little oil. Add the egg mixture. Cook until the under side is set. Put a large plate on top of the pan and turn omelette onto it. Then slide it back into the pan and cook the other side. (If the pan is not super non-stick just finish under the grill).
Step 3
To make the Salsa: Mix all the ingredients well together and set aside until ready to serve.
Step 4
To Serve: Slide onto a board and cut into 4 wedges. Serve with the Spicy Tomato Salsa.